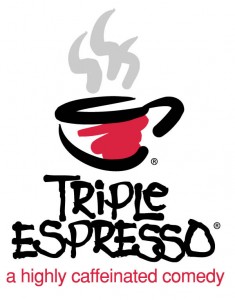 This extraordinary show has an amazing 20+ year history of commercial success. It's squeaky clean, cross-generational, and inevitably leads to uncontrollable laughter!
Triple Espresso tells the rags-to-rags story of an aspiring trio whose bid for showbiz fame and fortune ended in 4 minutes of magnificent failure on national television.
Combining magic and comedy, original music and parodies, physical humor and a touch of audience involvement, it's an experience not quite like any other.
Triple Espresso thrives on word of mouth and has unusually high repeat business. It's as funny the fifth time as the first. The show has entertained over 2 million people in 50+ cities in 6 countries.
"The funniest thing on six legs."
—The London Theatre News
"A triple jolt of inspired craziness…
crackles with an energy and spirit of infectious fun!"
—Los Angeles Times
For more information: Check out Triple Espresso's Website!
For news and updates on our productions: