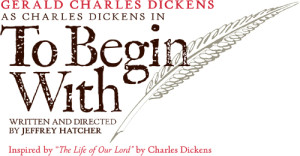 The Inspiration: A simple narrative, by a great writer, written not for publication, but for his own children. Few even know of this unusual book by Charles Dickens: a retelling of the Gospels, titled at publication (64 years after his death) as The Life of Our Lord.
The Question: Why did he write it? And why did he ask that it not be published?
The Play: Renowned playwright Jeffrey Hatcher's gorgeous script explores what may have motivated him, including his testy relationship with the pre-adolescent poet-to-be, Algernon Charles Swinburne. The one-man show is a fascinating glimpse into the mind of a great writer through a wonderfully entertaining story.
The Response:
"…a marvelously textured performance…an inspired collaboration."
–Lisa Brock, Special to the Minneapolis Star Tribune
"…highly entertaining…rich with nuance, humor, and a generous spirit."
–Arthur Dorman, www.TalkinBroadway.com
Click Here for To Begin With's Website
For news and updates on our productions: